Bookstore
The Friends of the Redwood City Public Library and its 50 volunteers run a resale bookstore located in the lobby of the Main Library, 1044 Middlefield Road. The store is the major source of funding for all the Redwood City library's programs so every purchase is most appreciated.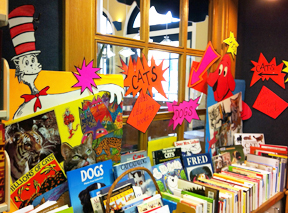 Our prices are the best deal for nice quality books. Our store features a section of new fiction at a fraction of the retail price, books shelved by topic and a large wall of fiction helpfully alphabetized by author. Additionally, we always have a themed feature sale such as sales for each holiday and two sales carts with extra special deals.
The best part? The store is always staffed by a friendly, helpful volunteer. We accept cash, checks with a phone number, and Visa and Mastercard. Visit us soon!
Special Book Sale Events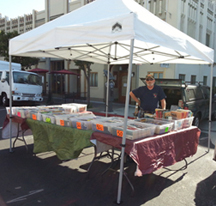 The Friends also participate in special book sale events. We sell books at events downtown during the summer and we occasionally have table sales in front of the Main Library. We announce our special sales with our email blasts. To be added to our email list, please send a request to us at friendsofrwclibrary@gmail.com.
Amazon Sales
The Friends operate an Amazon storefront. Our storefront has been a wonderful way in the past two years to increase our revenue to fund the library.
We list close to 700 new and very nice books, movies and CDs on Amazon to sell including rare books and collectible items. If you are shopping for a gift for someone, please visit our storefront to check our listings.